Pallet Wrapper Model EXP-308
Pallet Wrapper Overview:
With its adjustable motor speeds and programmable wrap counts the Exp-308 is a more versatile machine than the Exp-408; particularly useful if your wrap a wide range of product types. When run at full speed it is 20% faster than the Exp-408 giving it a realistic output of 25-30 pallets per hour yet the machine remains very simple to program and operate. It has a "quick release" control making the adjustment of the tension very easy to do during a wrap cycle which is ideal if wrapping light products or pallets of mixed weights such as heavy boxes on the bottom and light ones on the top.
Pallet Wrapper Standard Features:
1650mm turntable
2000mm wrapping height
Disc brake stretch
home position: the turntable always stops at the same position
Choose between 0-9 wraps at the top and bottom of the pallet
Features both automatic and manual wrapping cycles
2 Memory programs
Manual applied reinforce wrap
Turntable speed and carriage speed both adjustable
Adjustable pallet height photo sensor
Adjustable tension
Soft start and stop
Machine can be paused during cycle
Reset button returns the carriage and turntable to the home position
180° Rotating Control Panel
Trouble shooting shown on screen
Magnetic brake holds turntable still during loading/unloading
Audible warning when cycle starts
Pallet Wrapper Standard Options:
Multi-positional ramp for hand pallet trucks (1200 kilos maximum load weight)
Extra long ramp for use with powered pallet trucks
Pit Frame
1800mm Turntable
2500mm Wrapping Height (3000mm Special Order)
Horse Shoe Style Turntable (Special Order)
Pallet height sensor for dark loads
Pallet Wrapper Specifications:
| | |
| --- | --- |
| max. wrapping height: | 2000mm |
| max. turntable speed | 12rpm |
| max. loading weight | 1650kgs |
| film roll width: | 500mm |
| film roll outer dia: | 250mm |
| film roll inner dia: | 76mm |
| machine size: | 2550mm (L) x 1650mm (W) x 2345mm (H) |
| power supply: | single phase (supplied with a 13amp 3 pin plug) |
Pallet Wrapper Safety Features:
conforms to current HSE legislations
safety cut-out on film carriage and control panel
height limitation sensors
600mm gap between the edge of the turntable and the nearest fixed point
Pallet Wrapper Warranty Information:
Free 18 months full parts, labour & travel warranty (terms & conditions apply)
Extend your warranty for up to 5½ years for long term peace of mind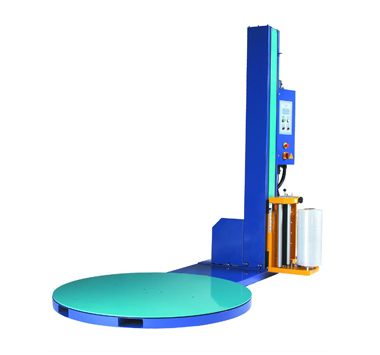 Disc Brake Stretch Type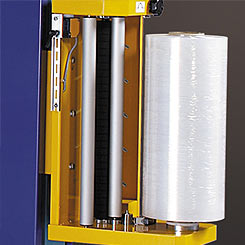 Film carriage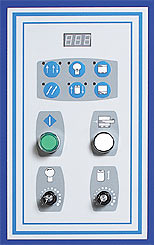 A view of the Pallet Wrapper control panel showing that it:
is simple to program
can be rotated 180°
located at the rear of the machine