Pallet Wrapper Model EXP-408
View EXP-408 product information:
Pallet Wrapper Overview:
The preset programming make Contact's entry level model very simple to use but does not compromise on wrap quality. Whilst its competitive price makes it appealing to low volume customers the machine is capable of wrapping 20-25 pallets per hour. Its limited features make the machine low maintenance and very reliable.
Pallet Wrapper Standard Features:
1650mm turntable
2100mm wrapping height
spring brake stretch
home position: the turntable always stops at the same position
choose between 3 bottom wraps and 2 top wraps or 2 bottom wraps and 1 top wrap
pallet height photo sensor
adjustable tension
soft start and stop
machine can be paused during cycle
magnetic brake holds turntable still during loading/unloading
audible warning when running a cycle
Pallet Wrapper Standard Options:
Multi-positional ramp for hand pallet trucks (1200 kilos maximum load weight)
Extra long ramp for use with powered pallet trucks
Pit Frame
1800mm Turntable (Special Order)
2500mm & 3000mm Wrapping Height (Special Order)
Horse Shoe Style Turntable (Special Order)
Pallet Wrapper Specifications:
| | |
| --- | --- |
| max. wrapping height: | 2100mm |
| max. turntable speed | 10rpm |
| max. loading weight | 1650kgs |
| film roll width: | 500mm |
| film roll outer dia: | 250mm |
| film roll inner dia: | 76mm |
| machine size: | 2550mm (L) x 1650mm (W) x 2358mm (H) |
| power supply: | single phase (supplied with a 13amp 3 pin plug) |
Pallet Wrapper Safety Features:
conforms to current HSE legislations
safety cut-out on film carriage and control panel
height limitation sensors
600mm gap between the edge of the turntable and the nearest fixed point
Pallet Wrapper Warranty Information:
Free 18 months full parts, labour & travel warranty (terms & conditions apply)
Extend your warranty for up to 5½ years for long term peace of mind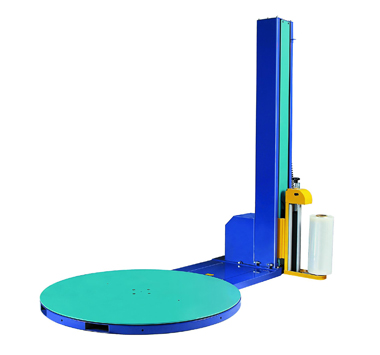 Spring Brake Stretch Type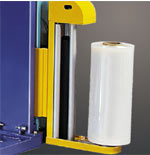 Film carriage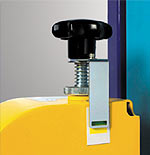 Spring brake tension control